SERVICES
Click on an option below or scroll down to learn more.
With established design parameters for your brand, anything is possible.
This process will begin with a conversation. You and I discuss in-depth the future that you envision for your brand - think BIG PICTURE. We will also identify the parameters of your desired target market. After we establish these vital points of reference, I will then begin to create your Brand Board.
What is a Brand Board?
A Brand Board is one of the most important tools used in Art Direction. It is visually similar to a mood board, but instead of offering vague ideas or "food for thought," it establishes set-in-stone design guidelines that allow your brand to grow in a cohesive manner across all visual platforms.
How is a Brand Board created?
Relevant design aspects incorporated in the Brand Board include (but are not limited to) photography & video style, icons, color palette, prints, fonts, and more. Every facet is catered with a strong emphasis on the psychology of best marketing practices, specifically with your brand's aesthetic and target audience in mind.
After defining your company's brand DNA with this board, I can then further assist you with the creative development behind marketing campaigns, website design, digital strategy, product photoshoots, and many other creative projects. It is with this Brand Board that we can ensure every visual marketing tool on behalf of your company is identifiable as uniquely you.
BUILD STRATEGY FOR GROWTH
Together, we will first review your goals for the digital accounts you wish to grow. From there, we will establish a framework within which I can exercise performance tests. The results of these tests will ultimately guide us as to which method produces the best growth for your business's social accounts.
STYLIZE DIGITAL PLATORMS
This part of the process relates back to the Brand Board we create, as the aesthetic of your digital accounts should accurately portray your specified Brand ID. All imagery and verbiage will follow your company's unique style and ensure that all visual representation is cohesive across all platforms.
DEVELOP campaigns
The first step to developing a campaign is defining your end-goal. Do you wish to build brand awareness? Are you trying to grow sales? With this in mind, we will build a digital marketing campaign geared towards your established target market while working within your budget to produce results.
press kits
With expert knowledge of Adobe Creative Suite, I can design for you the perfect Press Kit that effectively reflects your brand's personal history while also successfully displaying your product or services in an eye-catching manner. All Press Kits I create are prepared for both print and online presentation.
business cards
Business Card design has come a long way over the years and the plain white background with a tiny, dark serf font is no longer the gold standard for style. While I will always take your visual preferences into account, I will also advise modern yet beautiful ways to make your card stand out from all of the others.
catalogues
After years of experience working in the world of Product Design, I have become highly familiar with building Catalogues. Whatever your product or aesthetic may be, I can prepare for you a beautiful, chic, professional Catalogue that is highly organized, visually appealing, and useable for both online and print purposes.
brochures
In modern times, brochures are no longer just a print item - they must also be digitally accessible. With the same Adobe Creative Suite tools that I use to build Catalogues and Press Kits, I will design for you an engaging and highly marketable brochure for whatever your end-purpose may be.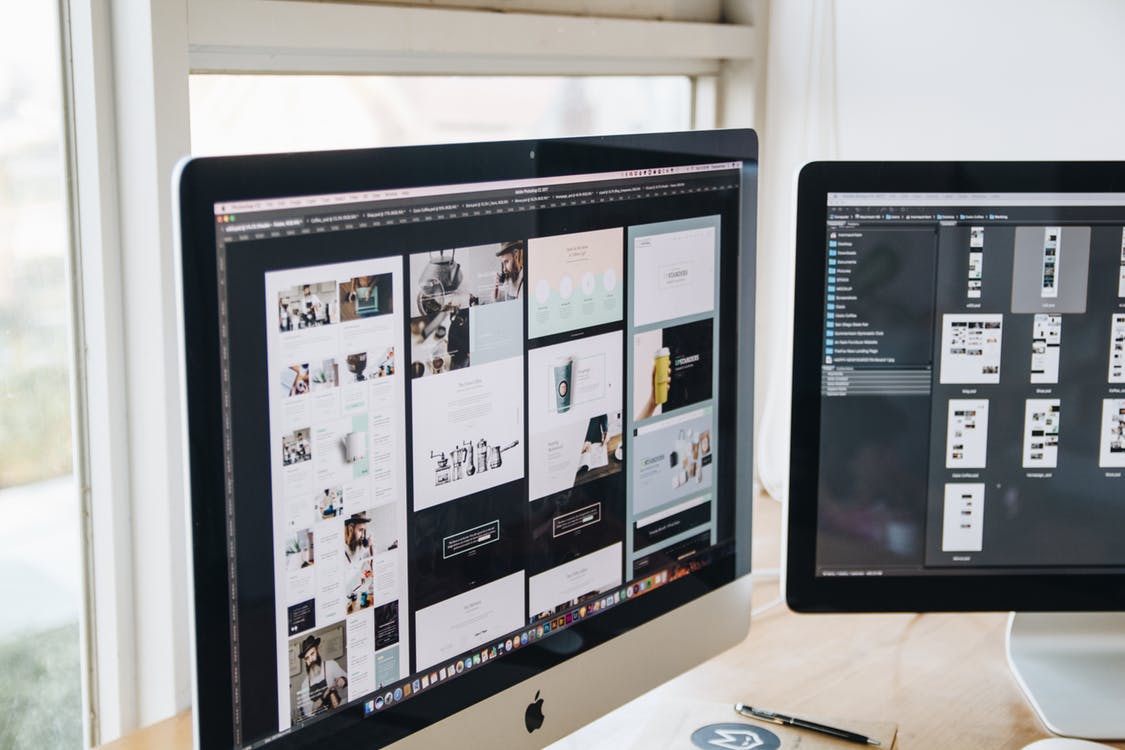 In today's world, a business or brand is not considered "with the times" if it does not yet have a website. This can be a bit daunting for those who've never created a website before and feel overwhelmed with questions like: Where do I even begin? How much will it cost me? Will the site take a long time to build?… While these are all good questions to consider, the biggest bit of advice is this: Don't panic! What you need is a Designer who has experience building across multiple website platforms and for various industries. Only with this type of background can you rest assured that you are in good hands.
Website Design is a complex job that requires:
creative yet practical eye for layout

a sharp attention to detail

a strong understanding of SEO

an effective & efficient team of developers
As an experienced Designer, I've curated a personal team of Full Stack Developers with whom I've built sites for both products and services across 4 different platforms. Together, we create the perfect team that is ready to assist you in making the best possible website for your needs. We'll assist you in preparing pertinent information like a sitemap, your brand's story, call to action content and more. Referring back to our Brand Board, I will also correlate the design aesthetic of the website to your pre-specified Brand DNA so that it accurately represents your company's style.
Website Building Platforms That I Use:
With a B.A. in Journalism from Southern Methodist University under my belt and years of experience as a Contributing Writer (for magazines, newspapers, blogs, and website content), I am primed to help you with your next writing project. This background has instilled in me a keen understanding of proper grammar structure, a playfulness with words, and a true interest to engage the reader.
Want more proof? Try editing this the verbiage I wrote for this website ;)
Over 5 years, I've built a steady track record in producing creative, captivating visuals for multiple brands in Europe and in the U.S.
Experience includes
Social & Professional Networking Events
Product & Service Imagery
Social Media Imagery
Marketing & Advertising Campaigns
responsibilities include
Creative Direction for photo & video shoots
Produce original photography & videos
Edit photography & videos using Adobe Creative Suite
Source creative team & organize shooting schedule